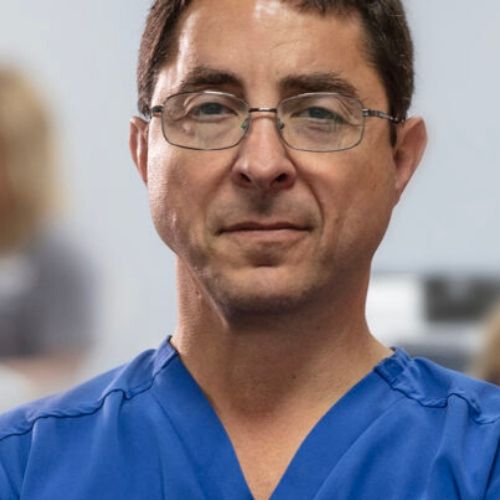 Joseph E. Miller MD FACS MMM
I was born in Louisiana and graduated from LSU in Baton Rouge in 1987, with a degree in Chemistry. Four years later, 1991, I graduated from LSU School of Medicine in New Orleans becoming a physician. I passed the FLEX licensing exam and received a license to practice medicine in LA.
In July of 1991, I began General Surgery residency at University of Texas Health Science Center – San Antonio, TX. In 1992, I joined the Army Reserve. In 1993, I became licensed to practice medicine in Texas. I did 5 years of residency and 2 years of research, graduating in 1998. From there, I spent 7 months in Lille, France, learning Endocrine Surgery at the University of Lille II.
In 1999, I became licensed to practice medicine in AR, and I moved to Pine Bluff, AR. There I opened a surgical practice. I performed General, Vascular, Thoracic and Laparoscopic surgery. In 2000, I became ABMS board certified in Surgery. In 2002, shortly after 9/11, I was called up by the US Army and served as a surgeon in a Forward Surgical Team in Kandahar, Afghanistan. When I returned, I resumed my practice.
In 2004, I was diagnosed with an acoustic neuroma. Over the course of a year, I had the tumor removed and recovered. Unfortunately, consequences from the tumor resulted in my inability to practice surgery. In 2005, I applied to the American Board of Physical Medicine and Rehabilitation to allow me to retrain in Pain Medicine as a sub-specialty. I did one-year of training under Dr. John R. Swicegood. In 2006, I became ABMS board certified in Pain Medicine.  In 2007, I was honorably discharged from the US Army Reserve after 15 years, at the rank of Lieutenant Colonel. 
I practiced Pain Medicine in Fort Smith with Dr. Swicegood until 2013.  In 2014, I went back to graduate school to get my masters degree. In 2015, I received my Masters of Medical Management (MMM) degree from the University of Southern California (USC), and then began working as a Medical Director for Transcend Population Health Management, a subsidiary of Humana, Inc. I worked with local physicians around NW Arkansas educating on Medicare Advantage programs and Quality goals required by Medicare.
In 2017, I decided to return to Pain Medicine. I opened Transcend Pain PA to serve western AR and eastern OK patients. In early 2018, we moved to our current location at 9001 Jenny Lind Rd, Fort Smith, AR. I am still ABMS certified in both Surgery and Pain Medicine. In 2019, I received my license to practice medicine in Oklahoma.